Community Centre
Our Community Centre in Brittas village is situated on the R114, just off the main N81 Blessington Road. It was built around 1900 and was originally the local primary school. It is a modest size community hall on a 2 acre site. There is also a dedicated area where our marquee can be erected which joins to the main hall and doubles the capacity for many of our annual events. At the back of the site, we have an allotment area that was created for the local school children to use. There are nicely maintained green grass garden areas with a variety of trees planted throughout the site.
In 2016 a beautiful new memorial was installed in the centre garden area to commemorate the 1916 Easter Rising. We have a large exterior heritage display board so anyone interested can read about some of the history of Brittas. There is a quiet, babbling stream running through the site. We also have a gated car park with spaces for plenty of cars.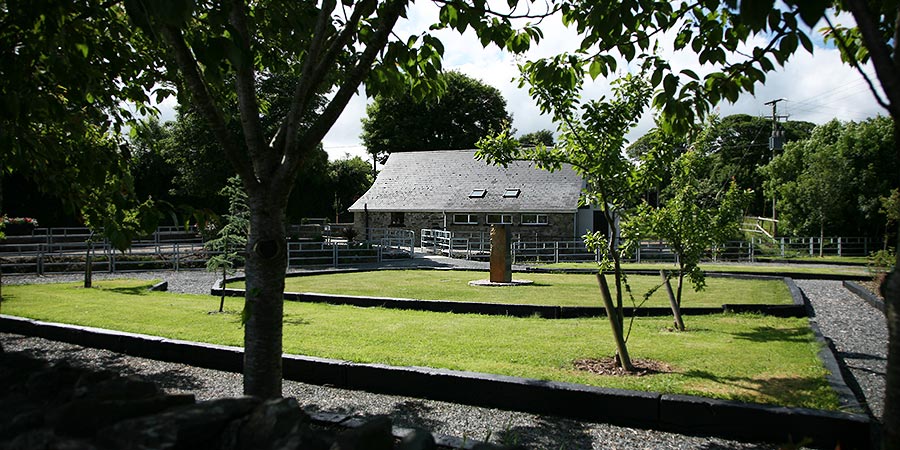 Throughout the year, there are many organised events held in the Community Centre. Some are fundraisers, some are free social events, plus music nights, kids events, etc. We also hold our public community meetings, AGMs and any presentations in the main hall. The Committee hold their monthly meetings in the separate adjoining canteen area. The Community Centre is also a Mass Centre as Mass is celebrated here every Sunday. Various classes are also held in the centre from keep-fit to educational. So the centre is used throughout the year for the benefit of the whole community.
If you have a need to use the Community Centre and you are a member of our community, or have an event directly related to Brittas, please feel free to contact the Committee and we will gladly evaluate any request: committee@brittascommunity.com
We also like to be as 'green' as possible in our Community Centre. We have installed two rainwater-harvesting water butts, we have a bio-waste unit treating all our waste water, we have migrated to LED lighting where possible and our allotment area allows us to grow our own produce which is sold back into the community to raise much needed funds. We also have a small 'herb garden', so please feel free to take any available herbs if they are of use in your cooking. There are also active litter-free campaigns which aids our 'Tidy Towns' projects.
Have a browse through some photos below to see our Community Centre in detail: