Brittas Security
Brittas Community Text Alert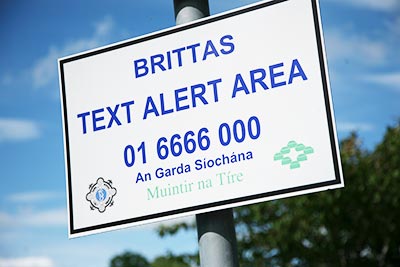 The phone number below is that of the local district 24 hour Garda Station in Tallaght:
This phone number is located on all our 'text alert signs' around the Brittas Community area, as shown in photo. Therefore all members of the Brittas community and surrounding areas are encouraged and supported in reporting any activity they deem to be of concern to them by phoning this number for the Gardaí . You must PHONE this telephone number (not text) to report your problem. Then they will decide if sending out a community text alert is warranted.
A proactive structure is agreed that all calls received will be acted upon in a timely manner. Should the phone call to the Garda Station be of interest to an Garda Síochána, then they have the ability to contact the contracted Service Provider who can then send out a Text Alert to the Community Alert Groups who have a database of phone numbers in place and will send out the text in a timely manner. Common sense will prevail as to how late An Garda Síochána will decide upon a Community Text Alert being sent out. This is a 'Muintir Na Tíre' initiative, so please click the following link for more information: www.muintir.ie/community-text-alert/
CCTV
The Committee are actively looking for funding to add a CCTV system to our Community Centre. It is being sought to curb any possible anti-social behaviour in and around the centre when it is not in use, or to deter any would-be criminals from theft, or damage to the property. So far thankfully, we have not had any incidents, but we would like to have something in place to hopefully continue this good fortune.
Community Text Service
Text services - we have a texting system that we use to inform the community of any news, announcements, info or security alerts. Please send us your name and mobile number if you are a member of the Brittas Community and not already receiving these texts.
Inform the Committee
If you have any non-urgent concerns about any matter related to the Brittas Community, or Community Centre, then you can always contact the Brittas Committee and inform us of any issue(s). We will gladly listen to any problems or concerns you may have and act on them where appropriate and if possible. Email: committee@brittascommunity.com