Brittas News Blog
---
At Community Centre
|
Dec 2017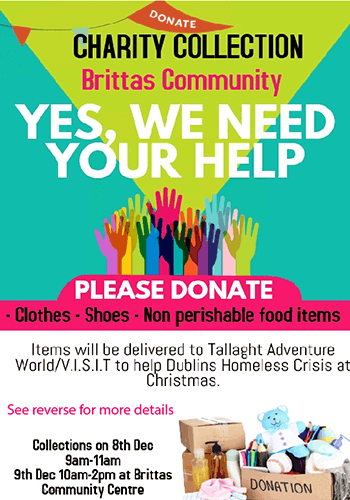 We had a charity collection for the homeless during December - much needed at a time when people are at their most vulnerable. Organised by the committee (mainly thanks to Stephanie Broe), it was a very successful collection with so many of you dropping off bags of clothes, food and other donations.
The Community Centre was the collection point and was open on both Friday 8th Dec from 9am to 11am and on the Saturday from 10am to 2pm. When the collection time was over, it was time to bring everything to the charity centre in Tallaght. There were enough donations to fill two vans, so overall the collection was a huge success.
A very big thank you to everyone who generously gave any donations and to all that helped in any way with this charity collection.
---